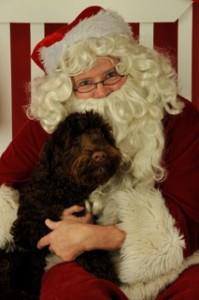 Chester
Hi Anna,
I just wanted to send you a quick email to update you about Chester. He is doing really well and has adjusted to our lifestyle with no issues.
We enjoyed our first Christmas together & even took Chester to see Santa!
We honestly cannot remember the time when we didn't have him around, he is the perfect addition to our family.
We took him to puppy classes & he has learnt all of the basic commands. We took a break over the holidays but plan on taking him for some more classes soon to improve his skills. He loves playing fetch with his frisbee in the snow.
He always brings us something when he first sees us, he even goes back in the kitchen if he forgot to pick something up. It's very cute!
Many Thanks,
Matt and Amy,
Nepean, ON