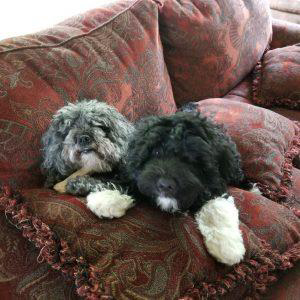 Guinness & Farley
Guinness and older dog Farley!
Hi Anna,
Just wanted to touch base and let you know how much we are enjoying Guinness. He is full of energy and is as smart as a whip. He's definitely a water dog – he is constantly wandering into the lake at our cottage!
Here is a picture of Guinness with our older dog, Farley (cocker spaniel/poodle mix). They are becoming good friends, although it's hard for Farley to keep up with the energy of a puppy.
Thanks again,
Penny
Ottawa, ON