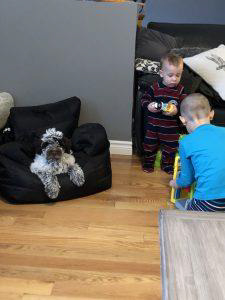 Timbit
Hey Anna,
I just wanted to share some photos of Timbit. He is truly an incredible pup.
We are beyond pleased we chose not only this breed but yourself as a breeder.
Timbit does everything with us! He loves ice fishing especially lol likely because he always manages to steal a good perch hahah! He is excellent with other animals as well (dogs and cats). He has a very goofy personality and we are so in love with our addition.
Heidi,
Cornwall, ON