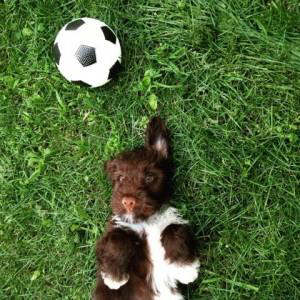 Bali
Hello Anna,
It's hard to believe that Otter is nearly 12 months old! She is an active healthy dog who still acts like a puppy much of the time but that is part of her wonderful personality.
She quickly became part of our family – maybe the centre of our family is a more accurate description.
She has graduated from two training courses and at times she can be extremely well-behaved but the stubborn, carefree puppy is never far away. She has the energy to spare
despite the fact that we take her out for walks and run in the woods several times a day.
She loves the water but is a reluctant swimmer. That's all for now.
Melissa
Lachine, QC