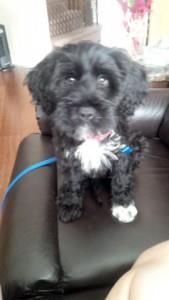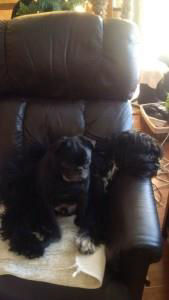 Myah
Myah with her Friend Gus – He is blind
Hi. Myah is fitting in well. She enjoys the water. We have a kiddie pool for her.
Lots of training. She's a real sweetie!! She gets along quite well with our blind pug Gus.
Bed sharing during the day and their own kennel at night.
Myah had her first swim in the Rideau River. Followed another dog into the
water playing and swimming. She loved it. Loves to fetch and enjoys the frisbee.
Myah enjoys a couple of lengthy walks a day and an off-leash play also
Myah has successfully completed puppy kindergarten.
Mike Marlene Myah and Gus
Orleans, ON