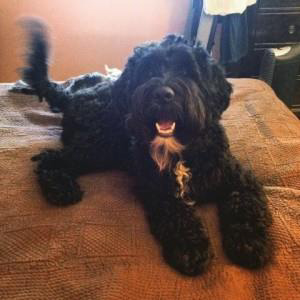 Sully
Hi Anna!
I have wanted to touch base over the past months but life gets in the way and time passes quickly!
Our boy Sully has proved to be a typical, strong-willed, energetic and very smart PWD!
He has been in obedience classes from a young age and we are about to start off-leash training.
He learns quickly and is eager to participate. We are looking forward to summer as we had him swimming in our big pool at 8-9 weeks of age. He took to the water right away.
What else can I say? We love him dearly and are so happy to have him in our family!
We have met some other dogs of yours when out on walks, they are all beautiful and well-loved.
Regards from,
Mary-Lynn, Sheldon, Robin and Sully
Dollard des Ormeaux, QC